Welcome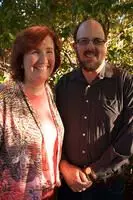 Today you are one step closer to a new you where you feel empowered and on a positive path to growth and well-being.
Laura and Wayne emphasize a collaborative narrative approach to therapy through therapeutic conversations to help families, couples, and individuals rediscover hope in the midst of the problem saturated stories of their current experiences. Their therapeutic approach is based on a therapy of appreciation for the client and the influence of problems on the clients' lives. Wayne an d Laura integrate complementary methodologies and techniques to offer a highly personalized approach tailored to each person. With compassion and understanding, they work with each individual to help them rediscover their strengths, new possibilities, and help them move into their preferred life stories.
If you're looking for extra support and guidance through a challenging situation or you're just ready to move in a new direction in your life, We look forward to working with you to achieve your goals.
Please call or email for an individual, couple, or family therapy consultation today.
Laura 775-722-8316 or Wayne 775-741-3671